Recipe: Yummy Garlic mashed potatoes
Garlic mashed potatoes. Drain, and place in a large bowl. Peeled garlic adds even more flavor to these mashed potatoes recipe from Martha Stewart. To make ahead, complete garlic mashed potatoes recipe, then top with a thin layer of milk.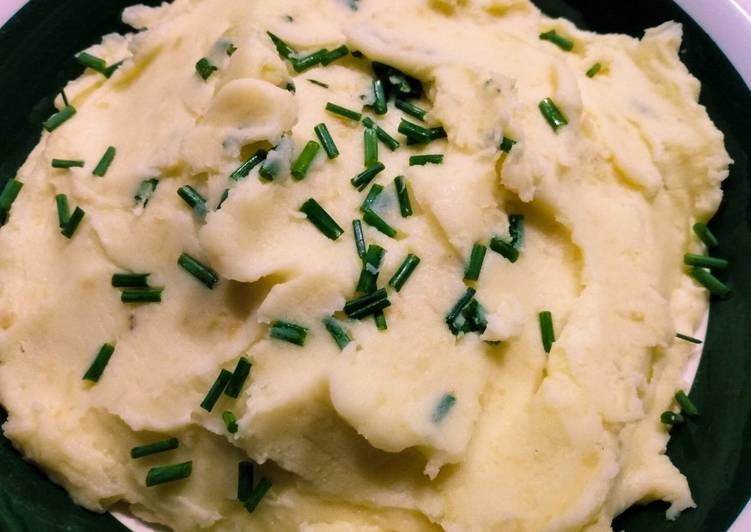 One forkful, two forkfuls, three forkfuls… sorry, none left for you! (Just kidding!) Growing up in a family of six kids, we are all rather competitive eaters. Basically, whoever finishes first gets seconds. And you're going to want to have seconds of. You can cook Garlic mashed potatoes using 7 ingredients and 3 steps. Here is how you cook that.
Ingredients of Garlic mashed potatoes
You need 5 of large cloves garlic, minced.
You need 1/2 cup of unsalted butter.
You need 1/2 tsp of ground white pepper.
Prepare 12 of yellow potatoes, peeled and quartered.
Prepare 1/2 cup of heavy cream.
You need of Whole milk.
You need Handful of chives, chopped.
Without a doubt, mashed potatoes are a quintessential side dish at just about every holiday—especially Thanksgiving. You can bet a hearty scoop of these garlic mashed potatoes will perfectly complement all that turkey and gravy. Butter and milk make these spuds extra smooth and silky, but the garlic is the real star of the show in the recipe. Check potatoes for doneness by poking a few wedges with a fork or skewer–if still firm, cook another minute or two and check again.
Garlic mashed potatoes step by step
Sprinkle a pinch of kosher salt onto the minced garlic. Then, using the flat of your knife, squish the garlic into a paste. You should end up with about 1 tbsp..
Put the garlic paste in a small saucepot along with half of the butter. Put the pot on medium heat. Let the butter come up to a froth, then turn the heat down to low. Once the frothing slows and the garlic just starts to change colour, remove the pot from the heat. Don't wait until the garlic browns, because it'll keep cooking and may burn. Add the white pepper and a pinch of salt and set aside..
Boil the potatoes in a large pot of salted water until they're fork tender. Drain well, then return the potatoes to their pot. Add the garlic butter, remaining unsalted butter, and heavy cream. Mash the potatoes until no large chunks remain, then stir until uniform. If the potatoes are too dry, add whole milk a few tbsp at a time. Try not to stir too much or the potatoes will become gluey. Season with salt to taste. Serve with a sprinkle of chives on top..
Place potatoes and garlic in a large saucepan; cover with water. Drain the potatoes and return them to the saucepan. Add the butter, sour cream and garlic. Mash the potatoes with a potato masher or the back of a fork until the ingredients are blended. Taste and add salt and pepper, if needed.