How to Make Tasty Purple Sweet Potato Gnocchi with Sage Brown Butter
Purple Sweet Potato Gnocchi with Sage Brown Butter. Line large baking sheet with parchment paper. How to serve sweet potato gnocchi. Sage and sweet potato have a legendary flavour affinity.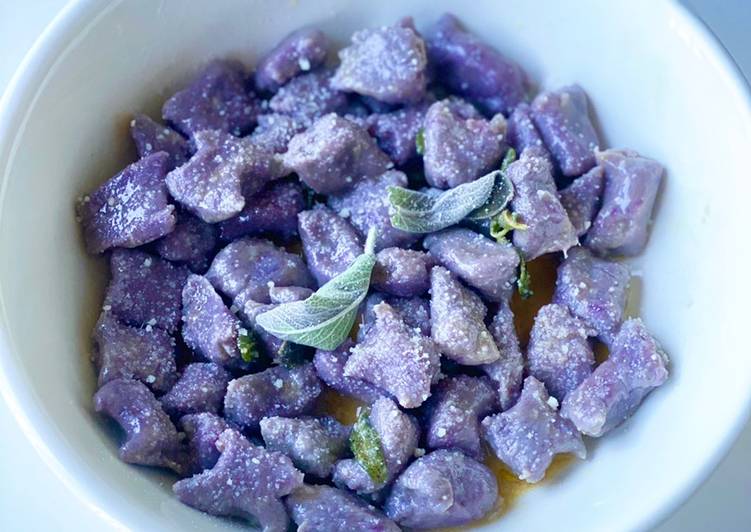 Swiss chard or kale would also be great. Sprinkle the gnocchi with grated Parmigiano-Reggiano cheese, crushed red pepper flakes and freshly ground pepper. Remove the sage from the butter and take the skillet off the heat when the butter is golden brown. You can cook Purple Sweet Potato Gnocchi with Sage Brown Butter using 9 ingredients and 14 steps. Here is how you cook it.
Ingredients of Purple Sweet Potato Gnocchi with Sage Brown Butter
You need 2 pounds of purple sweet potatoes (about 3-4 medium potatoes).
You need 2 of eggs.
You need 1 teaspoon of dried sage.
Prepare 1/2 teaspoon of nutmeg.
It's 1 teaspoon of salt.
You need 1 1/2 cup of flour plus extra for dusting.
Prepare 3 tablespoons of butter.
You need 4 tablespoons of fresh sage chopped.
Prepare 2 tablespoons of grated Parmesan cheese.
Bring a large pot of salted water to a boil. Stir in gnocchi and sprinkle with Parmesan. Vibrant sweet potatoes make this gnocchi unique. Serve simply with brown butter, sage, or parmesan.
Purple Sweet Potato Gnocchi with Sage Brown Butter step by step
Preheat oven to 350 and roast sweet potatoes until tender. About 30-40 min..
Remove skin from potatoes and mash insides with a fork or potato masher. Once mashed, you must allow the potatoes to completely cook. You can put the potatoes in the refrigerator or freezer to speed the cooling process..
Pour the flour onto a clean dry countertop and shape it into a ring..
Crack eggs into the center of the ring and beat with a fork. Do not mix any of the flour into the egg mixture as this time. Add the dried sage, nutmeg, and salt to the eggs..
Add the mashed sweet potatoes to the egg mixture and combine..
Using your hands, slowly start to mix the flour into the potato mixture. Gently Knead the dough until well combined and no longer sticky. If the dough is too sticky, add more flour..
Dust flour on the countertop, roll dough into large ball, and cut ball into four pieces..
Roll each quarter into long strands approximately 1 inch in diameter..
Cut gnocchi into 1 inch cubes and separate on baking sheet. Do not allow gnocchi to touch as they will likely stick together..
At this point you can either put baking tray in freezer to freeze gnocchi for later use, or boil water for immediate use..
Add gnocchi to boiled salted water and cook until they rise to the top. About 2-3 minutes..
Drain pot and reserve about a 1/4 cup of the pasta water..
Add butter to a large saucepan and melt. Once butter starts to foam, add fresh sage and fry until crispy. When butter starts to brown (make sure it doesn't burn) add the pasta water and stir. The pasta water should thicken the butter and make the sauce creamier..
Add gnocchi to pan and stir to coat with butter sauce. Once combined, remove gnocchi from pan and top with grated Parmesan cheese. Enjoy!.
Heat the butter in a large saucepan or skillet until bubbling and slightly golden brown. Add the gnocchi and pan fry until golden brown on each side, (might have to do this in batches) then add the handfuls of baby spinach, garlic, sage leaves, and salt and pan fry for another few minutes. Sweet potatoes, sage, nutmeg and brown butter is what you will find in these fluffy light orange pillows (not to be using for sleeping). The key to perfect gnocchi the balance of moisture and flour. Too much moisture and they fall apart when they cook, too much flour and they turn out heavy, not light and fluffy.