How to Cook Appetizing Potato cakes
Potato cakes. I reserved a little of flour mixture to coat outside of cake. I found putting butter on my hands greatly helped to form cakes and keep them from sticking to my hands. Melt butter in a large frying pan over a low heat.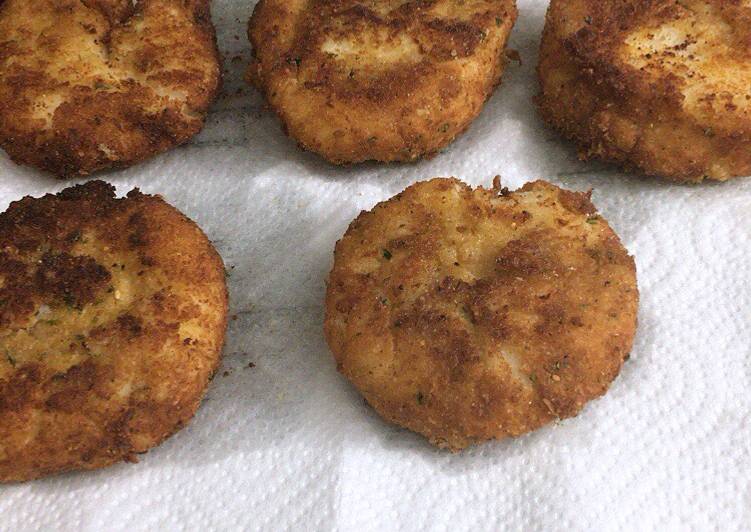 Add the potato cakes to the pan and reduce the heat to medium-low. Mix the beaten egg with the mashed potatoes. Add the milk and mix well. You can have Potato cakes using 7 ingredients and 6 steps. Here is how you cook it.
Ingredients of Potato cakes
Prepare of Leftover mashed potatoes.
You need of Shredded cheese of choice.
It's 2 of Eggs.
You need of Flour.
Prepare of Bread crumbs.
It's of Oil for frying.
You need of Bacon crumbles, Green onion chopped, all extra optionals(little broccoli).
The batter should be very thick. Simply boil a few potatoes and mash them with a small piece of butter (I use this potato ricer) adding a pinch of salt and ground black pepper, or use leftover mashed potato if you have any. If using boiled potatoes, make sure that you chill. Start with a couple Tablespoons of flour and work up if needed.
Potato cakes step by step
Heat oil in frying pan.
Add in any extras at this time to the mashed potatoes, before forming into patties. (no need to add anything extra if you don't have it.)Take cold mashed potatoes and shape them like hamburger patties..
Take 2 eggs and beat them.
Take potato patties and coat in flour, then eggs, then bread crumbs and fry until golden brown. When frying don't forget to flip them. (if they fall apart a few of mine did, when coating them no big deal just reshape them in the bread crumbs that's what I did.).
Drain on wire rack or paper towels before severing.
Notes- use a spatula, when placing in oil. I used my hands and just picked them up and one fell apart, my 2nd batch I placed in with a spatula.
Fry up the leftover potato cake in vegetable oil or butter. Dip the back of your spoon into the oil and then press down with it onto the potato cakes to flatten them a bit. Fry until browned and then carefully flip them over and brown on the other side. This photograph is a bit shaky but that is probably because a slew of grandkids ran through the kitchen as Mama was taking it. Finely grate potatoes; drain any liquid.