Recipe: Appetizing Cheesy Potato Broccoli
Cheesy Potato Broccoli. The Same Golden, Crispy Hash Browns You've Always Loved. Stir in the hash brown potatoes; mix until combined. Spoon HALF of the mixture into a prepared baking dish; top with the broccoli, spoon the remaining mixture over the broccoli.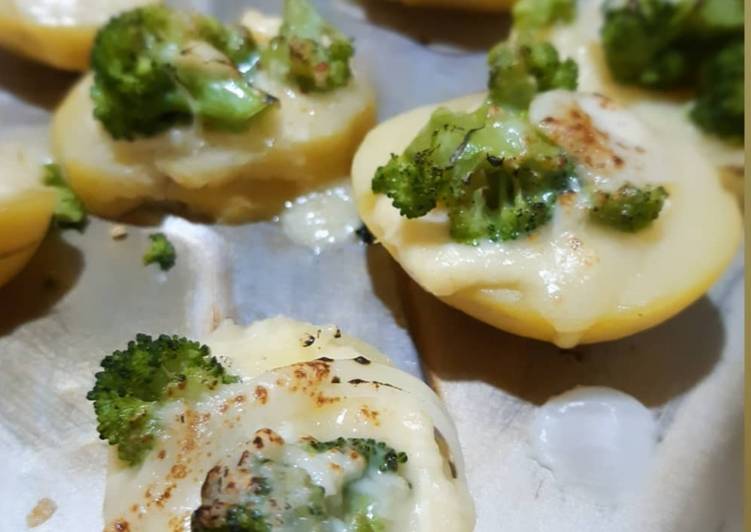 Transfer the broccoli to a large bowl and coarsely mash with a potato masher. These cheesy broccoli skillet potatoes work great as a side dish or, served with soup or salad, as a light meatless meal. But with all of the fresh, whole ingredients – like white potatoes, broccoli, onion, and olive oil – these skillet potatoes are also filled with plenty of healthy nutriention too. You can have Cheesy Potato Broccoli using 13 ingredients and 6 steps. Here is how you achieve that.
Ingredients of Cheesy Potato Broccoli
You need 3 of medium steamed potatoes.
You need 1 of green bell.
You need half of onion-chopped.
It's of Mozzarela cheese.
You need of broccoli-cut into bite size.
You need 2 tbsp of Olive oil.
It's of Garlic Sauce (Original recipe by Natasha's Kitchen Website).
It's 2 tbsp of margarine/butter.
Prepare 2 tbsp of all-purpose flour.
It's 200 ml of milk (I use fibercream).
Prepare of shredded cheddar cheese.
You need 2 tsp of garlic powder/ 2 cloves of garlic-crushed/grated.
You need of salt, pepper, sugar, lil bit of chicken powder.
This cheesy potato and broccoli casserole is loosely inspired by classic scalloped potatoes. For the base, I went with a veganized "cheesy" béchamel sauce, just a simple roux, onion and garlic, vegetable broth, unsweetened non-dairy milk, and plenty of nooch. Cheesy Broccoli Potato Casserole is a surprising twist on traditional casseroles and is sure to become a family favorite! Mashed potatoes, bacon, broccoli and three types of cheese create a cheesy potato bake like no other!
Cheesy Potato Broccoli step by step
Steamed the potatoes (skin on) till it soften. While waiting for the potato, on a medium heat, melt 2 tbsp margarine in the sauce pan, put 2 tbsp of flour, stir till you can smell such a nice baking aroma..
Pour a cup of milk into the roux, mix it till it smooth and thicken.
Put the grated garlic, cheddar cheese, salt, pepper, sugar and chicken powder into the mixture then whisk it in a low heat. Let it simmer and turn off the heat..
While waiting the sauce to cool down and thicken, boil the broccoli for about 4 minutes or until it is soften.
After the potatoes cook through, peel off the skin, cut into 4/ 5 thin slice, and lay it on a baking tray. On top of the potatoes, put the garlic sauce, dice green bell pepper, chopped onion, broccoli and mozzarella. Drizzle it with olive oil and season it with black pepper. Put it into the preheated oven in 180c for about 12-15 minutes or until the cheese is melted..
Serve it with your favourite dressing (mine is roasted sesame by Kewpie!).
This baked potato casserole has a surprising combination of flavors and textures. You'll first need to sauté the onion in a little butter before adding in the cubed potatoes, broth, and kosher salt. Cook the potatoes until fork tender, then whiz the mixture with an immersion blender.. Wrap each potato tightly with foil. Add potatoes, ham and broccoli to sauce; stir gently to coat.